The Victorian shed is typically sought after when the owner needs to maximize their lot area. The design directly influences the functionality of this space, and our team of architects in Framingham MA and surrounding region is ready to offer you the best in this aspect.
With multiple functions, this area can move from simple storage to a more elaborate area, and for this reason, in some scenarios, the application of permit is necessary, and we, as architects in Natick MA and area, are specialized with this type of paperwork .
In addition, every care must be taken to ensure that the exterior visual  of this structure matches the main house, and the team of architects in Newton MA and Great Boston have designs that offer the best solution to make this happen, creating a harmonious outdoor environment.
Below, you will find an extensive content that will delve even deeper into the history, functionality, construction, and other interesting facts related to the impressive Victorian Shed.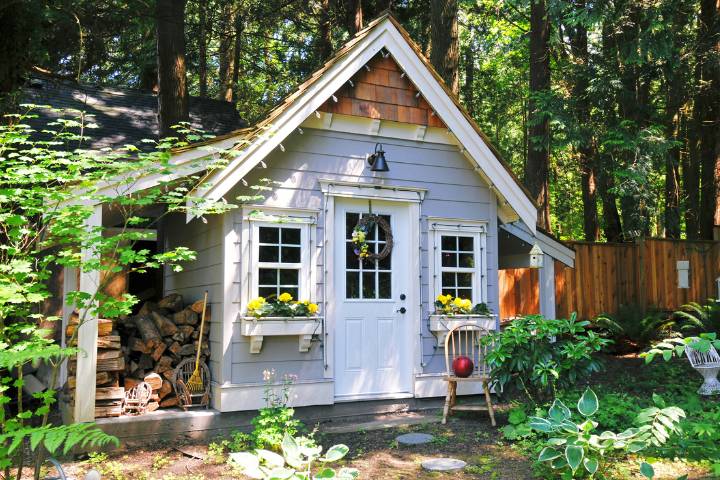 What is a Victorian Shed
A Victorian Shed is a small house with an area between 50 and 450sq ft (give or take), which works as a support to the main house, with multiple purposes, from being used as storage, till be used as a garage or office.
The "Victorian" in the name evocates the Victorian Style, a type of design very particular.
As has been highlighted, this "extra room" located outside (most part in the backyard) is a key space for the owner, see below a list of how you can optimize this area:
What the purpose can the Victoria Shed be used for:
Storage – most common to use, more indicated to small sheds (with 50sq ft or less).
Tool keeper – if you have a decent number of tools (carpentry, mechanical, or garden), this is the best room to keep them organized. Indicated to small sheds.
Bike keeper– If you are a cyclist who has a big concern to keep your bike safe and free of scratches, a medium shed (with 85sq ft up) is the best option for you.
Heavy equipment – A medium shed can hold a big lawn mower, a snow blower, a snow shovel, and other types of heavy equipment that need to be in a safe local.
Office – If you have a large shed (more than 300sq ft) and you're looking for a quiet and cozy workspace, this room is an awesome option for you. The correct furniture and decoration can turn this area into a great space to work daily.
Gym – A large shed can accommodate your workout equipment, and you can use that space as a gym or yoga practice as well.
Hobbies – Art studio, music production, knit, reading space… There are so many possibilities that a large shed brings together, especially if you're looking for a space to practice your hobbies.
Garage – Over 400 sq is possible to use your shed as a garage.
Now you know how to use a shed, maybe is time to hire us and implement a cozy and comfortable extra area on your property.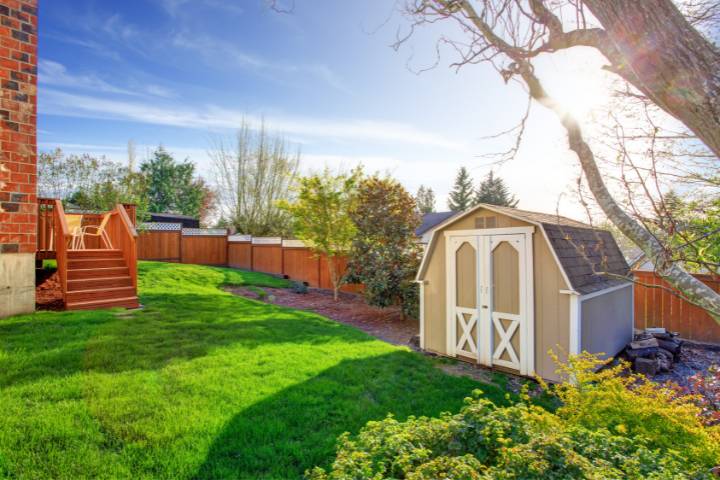 The History and Origin of the Victorian Shed (H2)
Origin of Shed
According to historians, the origin of the sheds came from the necessity of the Egyptian's storage of grain and silos.
Not only in Egypt but in early Europe and ancient Romans, was found evidence of small safe spaces close to their houses used to stock olives, skins, and condiments. The name "Shed" came from an Anglo-Saxon expression used to describe a "cover" space.
Victorian Era
The Victorian style was an important design movement consolidated in the U.S., in the 19th century, which changed the way how the design was made. This era was a cultural change made during Queen Victoria's reign.
This movement impacted the construction, bringing the concept of sophisticated and classy houses. A Victorian Shed will have a very imponent gable, with a trim work meticulous and elaborate.
Victorian Shed vs. Modern Shed Designs
The decision of which type of design you'll pick for your deck will depend on what you want to transmit with the visual. And, of course, it is indicated you adopt a design like your main house, to have harmonic propriety.
See below the difference between Victorian Shed vs. Modern Shed Designs:
Roof
The Victorian style typically has accentuated pitch, like 8, 10, or 12, which turns the roof into a pretty imponent part of the visual. Modern designs most of the time opiate to flat or low-pitch roofs.
Siding color
Victorian usually have colorful exterior siding, and modern usually use sober colors, like concrete and wood tones.
Windows
With very elaborate big trims around the windows, Victorian style evidence more this part of the windows. The modern style looks to "hide" this part of the trim, opiating to simple profiles of metal extrusions color match with the siding around the windows.
Shapes
You'll find a lot of shapes at your finish in a Victorian Style. Curves and rounded shapes are typically used in this design – in a harmonic way. Modern will bring more squared and simple shapes to the design, bringing a more minimalistic vision.
How long will a shed to house last?
The average time of durability of a shed is 10 to 30 years or more than that. The key factor to a long endurance of a shed is the materials and foundation.
Buying or building a shed: differences
Have a substantial difference between buying and building a shed. Let's check the main points:
Production
Because of the production in scale, a shed sold in stores is not durable as a shed built from zero.
Materials
Building a shed will give you the possibility to buy good materials, that will turn your shed durable. Pre-build sheds usually use cheaper materials, because those who build think about the profits on top of it.
Foundation
A shed built in loco will have a more solid and deep foundation, which will make your shed safer and more solid. For an easy and quick installation, a diamond pier foundation is a good fit as a structure for your shed.
Design
Your shed can be used for multiple purposes, but this will depend on your design. A pre-built shed will not give you the opportunity to optimize your space, different from a built-in loco shed.
According to the IRC guidelines, a structure with more than 200sq ft will request a permit application.
But take into consideration that this area can change depending on your zoning code, we, as an architecture firm, attend as architects in Natick, Framingham, and Newton MA, and we can guide you to avoid permits or, if needed, provide permit application plans.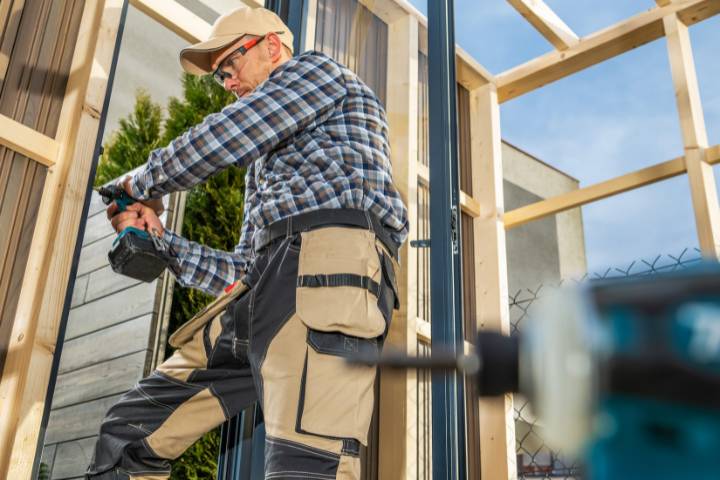 How to Build a Victorian Shed
The first step is checking if your shed will need a permit or not. From there, see the steps below:
Set of drawings
You'll need floor plans, footing plans, framing plans, sections, details, and a finish schedule to start building your shed.
Foundation
Set your foundation position on the land and start to excavate – 48" to sonotubes and 12" for the diamond pier – poor concrete or install the diamond pier.
Framing
Install your deck framing structure.
Walls
Rise walls following plans.
Roof
Use the framing plan to set your rafters and make your roof.
Windows and doors
Install windows and doors.
Siding and Shingle
Install exterior siding and shingle on the roof.
Interior
Install interior insulation on walls and drywalls.
Finish
Place your floor finish, trim on walls, and other types of finish indicated in your finish schedule.
Best materials to build a shed
For the Victorian Shed, we indicate that you choose the best materials, especially for the finish, and to help you, see below a list of materials that we indicate:
Diamond pier for foundations.
Pressure Treated for joists (with ground contact).
¾" T&G AdvanTech for deck plywood.
Kiln Dried studs for walls.
Zip system and zip tape for wall plywood.
Fiber Cement siding James Hardie (for long last and less maintenance).
Azek or Wolf PVC for trims.
Nail finish or Cortex screws with plugins for PVC.
Alsco for aluminum flashings 019.
Firestone or ATAS for aluminum flashings 032 or thicker.
OSI MAX for caulking, and Dow Sil for color custom.
Hardwood flooring.
Sherwin Williams or Benjamin Moore for paint.
The Essential Tools for Building a Victorian Shed
To build a shed, we highly recommend that you hire a contractor, because this process needs to be made by professionals, for safety.
For contractors, the most essentials tools are:
Hammer
Cut Saws
Squares
Nail Gun
Level
Snap Line (shock-line)
Drills
Sawzall
Excavate tools
Caulk gun
This is just a brief list of the most common tools, during the process, different tools may will be necessary.
Safety Practices during the Victorian Shed Construction
Following the OSHA guidelines, see a list of requirements and PPE (personal protective equipment) that you need to follow during the construction:
Safety glasses
Gloves
Steel-toe boots
Hard hat
Ear protection
Toolbox-Talk
Fall protection license
Harness
Special pants
Cables in good condition
Ladders which support more than 250lbs
How do I make my shed livable?
First of all, you need to check with your zoning department what type of improvements you need to make your shed livable. Here are the typical requirements:
Interior finish
Insulation on the walls
A bath
HVAC
Power line and electrical equipment
Plumbing, sewer, and water supply
Airflow
Interior lighting
Fireproofing
Victorian Shed Maintenance and Care
We indicate that you use all the materials maintenance and care guidelines (provided by the manufacturer), like caulking replacement, shingle replacement, a new coating of paint, good use of the space, window replacement, and others.
Common issues with older sheds are typically related to humidity and structure. Pay attention to walls that are appearing different that what is normal, like mold and air bubbles behind the drywall.
If your drywall has a non-typical crack, check with a structural professional, because this can be a problem with your structure (overload).
Seasonal Care for Your Victorian Shed
The transition between seasons can degrade your shed because of the different weather exposure. This dramatic change can damage the shed materials. Check a few tips to avoid this problem:
Spring
Clean your gutter and roof, siding cleaning with a special detergent and water, pest control, chimney cleaning, and an exterior inspection is especially important to replace damaged materials.
Summer
Ventilation maintenance, a new coating of paint, and landscaping around the shed.
Fall
Double-check gutters and roof, waterproofing inspection, interior organization, and HVAC inspection.
Winter
Insulation inspection, doors, and windows inspection, snow removal, and interior maintenance to avoid mold.
Now that you have an entire analysis of a Victorian Shed, feel free to contact us to get your project and build your brand-new shed. Send a form and we will get back soon.