Our experience with porch and decks
A porch or deck always brings fresh air to any type of construction and with more than 70 projects mixed into front porch designs, back porch designs, screen porch designs, modern porch design, shed designs with porch, small porch designs, and more, we build excellence in terms of design to this type of project. Look at our portifolio to see a couple of projects that we have made.
We take the same care from a modern contemporary front porch designs to a farmhouse-inspired barndominium with a wraparound porch at architectural designs, because quality and perfectionism are one of the biggest principles of our brand.
As a porch designer, we choose the option to make together with the client the concept process, doing a back and forth about sizes to respect the code, materials like porch railing designs for selection, samples of decking floor (like Trex line of composite decking), and any other finish material. Before picking any material, we like to show the material itself to the client to have the experience of seeing the real texture and color, and of course, bring options to help with the construction budget.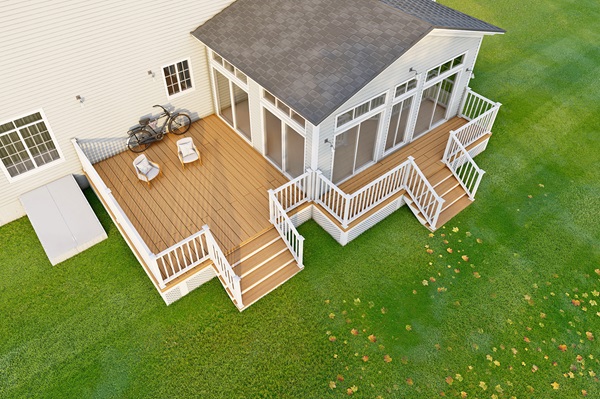 Let's start a new project.
Fill out our form and get a quick response from our team to schedule a meeting and a free quote.
Do we furnish a full set drawings for permit application?
Yes, we do. And, during the process of drawings, we like to back and forth with the building department as well, that way we can guarantee a simple and smooth permit application process.
- What type of drawing is needed for the porch or deck permit application?
Will depend on the type of deck, porch, or sunroom. For example, for a deck and screened porch designs the full set of drawings will include footing plans, framing plans, sections, details, stair details, and sections, a finish schedule plan, and, if needed the permit application process (which usually do) the existing exterior elevations and the proposed new elevations.
For back porches designs the set of drawings probably will be the same. For an exterior deck design only, the drawings requested from the building department should be footings plans, sections, details, stairs, and maybe the existing conditions. A great tip to avoid problems during the process of permit application is to have on hand the plot plans of your property, this is always being requested from the building department because they need to check the seat back limits of your property, that way we can establish the deck dimensions that will accomplish with your propriety limits. If you hire us to draw your porch or deck or make an extension of your house, that will be our first request. Another tip is to check with your building department how old the plot plan can be, most of the towns request plot plans with a maximum of 10 years.
Now that you have a big picture of our experience with decks, porches, screen porches, or sunroom designs, including all the paperwork and drawings requested by the building department to have a smooth permit application, feel free to contact us or fill out our form Will be great to have your new porch or deck in our gallery.
Let's start a new project.
Now, as you were able to get a picture of who we are, it is up to you to contact us and lay the foundation for a new and successful business relationship